Coffee and a chat!
Argyll
Community League Family Swimming
Indoor Pool Schedule
The shutdown at Commonwealth Recreation Centre's Pool is over. Commonwealth is open again.
Commonwealth Pool was chosen last year when the Millwoods Pool was closed for renovations (shortly after we were booked into it) and we went to Millwoods because Bonnie Doon Pool was closed for an extended period of time (a pool we have used for a few decades) so our record is 3 for 3 in shutting down pools we book into. We will stay with this facility unless the membership wish to move to another pool.
Bring your community league membership card (with the barcode sticker on the back) when you visit any pool in summer or winter.
Community Swim Schedule
Commonwealth Pool
11000 Stadium Road
day
start
end
Saturdays
5:00 PM
7:00 PM
Start Date:
December 02, 2017
End Date:
September 01, 2018
Soccer Programme
The program will continue through winter
A parent-run weekly soccer night for 4-6 year olds. Come encourage your kids to get moving in a fun, casual environment and meet other local families.
When: Thursday evenings, 6:00 -7:00 PM, weather permitting.
Where: North side of the Argyll Community Hall (grass between the hall & velodrome parking lot)
What to bring: A soccer ball (if you have one) and running shoes for your child.
We are fortunate to have several parents with training in physical literacy who will be guiding the kids. The goal is to build confidence and improve physical movement.
New Playground passes inspection – Available for winter play
The City inspectors paid a visit to the Playground site last Tuesday (November 28) and, once additional parts were finally installed, they've given it a clean bill of health. So, for those families for whom a winter visit to the playground is a familiar thing, then you can explore and enjoy the new apparatus which has been installed during the winter months. The fences are still up around the areas which are not safe to visit, but if you come into the playground from the South end along 88 Street then you can play and use the Gazebo as well.
Next spring the cycle pathway will be installed and we might find ourselves fenced out for a short time after they pave that path and pour cement for the patio area. So, there will be another time when the playground is closed off, but for now enjoy the new gear and explore all the upgraded areas of the playground.
Argyll YOGA classes
Argyll Community is pleased to be able to present this Hatha Yoga Programme to both residents and the general public. Classes are held during winter and spring the lounge area of the hall each Monday evening from 7:30 — 9:00 PM.
This is Hatha Yoga with a focus on alignment, core stability and awareness of body and breath. Our instructor is Renee Giammarioli (an Argyll resident) who is a Yoga Association of Alberta Certified Yoga Instructor and is also a physiotherapist.
Drop-in rates are $10.00 per class for Argyll residents, $12.00 for non-residents.
We must limit the class size to 12 students. Contact Renee if you are planning to register. Also be sure to let her know if you have a recent injury or some physical limitations. You can call Renee at 780.903.1911.
Snow Angels Program
Snow Angels is a broad, community based education campaign about snow removal which supports citizens who shovel regularly and those who help a neighbour out. Community Leagues who participate in the program will help promote and recognize people who shovel on a regular basis, as well as those who help neighbors in need. Argyll Community League has signed up to participate in the program. Participation in the Snow Angels programme will include prizes as well as recognition by our community league.
This winter, Argyll Community League is joining the Snow Angels programme. As a community, we want to encourage everyone to keep their sidewalks free of snow and ice. We also want to encourage residents to consider helping a neighbour. Many people in Argyll need help due to mobility or health issues and might not always ask for help. If you need help shoveling your walk, please contact Dave Trautman at 780.463.9310.
If you are a senior needing help shoveling your walk this winter, please contact the South East Edmonton Seniors Association: 780.468.1985.
This is our opportunity to make sure Argyll residents keep sidewalks safe for everyone and to help out our neighbors who might need assistance.
Volunteer "Snow Angels" will be eligible for a prize pack from Boston Pizza. Become a Snow Angel by:
Keeping your walk free of snow and ice
Shoveling a neighbour's walk
Starting a conversation with neighbours about the importance of clear sidewalks
Making a plan with your neighbours to share the shoveling
Let's work together to keep our sidewalks clear. If you wish to report a Snow Angel for recognition contact Dave Trautman at the number above.
Stay tuned to this page through the winter for announcements about winners and the names of some "angels" in our neighbourhood.
Avonmore
Parent & Tot Drop In
This is a free program for parents and caregivers and their children between 0-5 years. Join us for a combination of free-play, weekly planned activities (art, music, gross motor play, sensory activities, etc), social interaction and more.
There is coffee and tea for parents, please bring snacks for your children. Please contact Wendy (membership@avonmore.org) if you have any questions, or if you'd like to join the fabulous team coordinating this program.
This program runs Fridays from 10:00 – 12:00 starting July 28, 2016 until July 19, 2018. View the schedule here.
Yoga
The Winter Yoga session will run Tuesdays and Wednesday from January 9th to April 24th. To register, contact Anita at (780) 222-4482 or at director3@avonmore.org
The cost is $ 135.00 for the full session of 16 classes for members of any community league in Edmonton ($150 for non-members). The drop-in fee is $15/class.
Instructors:
Emily McNicoll takes a lighthearted, inclusive approach to teaching Hatha yoga. Her classes offer a wide variety of postures and practices. She's passionate about offering practices that are approachable to all levels of practitioner. In her classes you can expect to explore both strength and flexibility as well as techniques for mindfulness, meditation, and relaxation. She has a particular passion for restorative yoga, mindfulness practices, and working with pregnant woman. Emily has been teaching yoga since 2008 in Edmonton and was happy to explore teaching internationally in Bali in 2016. Emily has assisted with many teacher trainings around Edmonton and has completed many herself. She is well versed in safe anatomical alignment as well as prenatal yoga. As of 2016 Emily has been working as a doula along side teaching yoga. She believes in living from her heart with authenticity and enjoys asking big, inquisitive questions with a sense of humor.
Tori Lunden delights in teaching people who, like her, never thought yoga was something they could do or enjoy. Her emphasis on positive body awareness and respect for individual needs allow everyone to practice in a way that feels safe, accessible, and beneficial.
Tori initially tried yoga to help her recover from rugby injuries, and was hooked by the quiet and nurturing nature of the practice. Over a decade later, her knees and back have healed and she has an appreciation for both her body and her life that she never thought possible.
Tori has a degree in Social Work through the University of Calgary. Though no longer practicing social work in a formal setting, she remains passionate about social justice and building healthy communities. Tori completed her first yoga teacher training in 2008 through the World Conscious Yoga Family in Rishikesh, India. She has since completed yoga training programs through Yogaworks, Core Strength Vinyasa Yoga, Paul Grilley, and Leslie Kaminoff.
This program runs from January 9, 2018 until April 24, 2018. More Details here.
Avonmore Book Club
If you enjoy reading, this popular book club would love to have you. The Club meets on Sunday evenings every 4 – 6 weeks. Members take turns picking books and hosting meetings. New members are welcome from any community.
Books we have recently read are: Behold the Dreamers by Imbolo Mbue and Do Not Say We Are Nothing by Madeleine Thien.
Stay up to date on community driven events at http://www.avonmore.org/
Hazeldean
Okinawan Style Karate with Sensei Bill Elgert
Home to traditional Meibukan Goju Karate Edmonton, Sensei Bill Elgert provides instruction to children from 6 years old to adult in this Okinawan style martial art. The benefits to participants include increased respect for self and others, improved ability to focus, camaraderie, physical fitness, improved self-esteem, and confidence. For children, this provides a healthy environment to run, play, share, and laugh while expending some of that excess energy they all seem to possess in learning a new art form.
Sensei Elgert holds a 2nd degree black belt and has received training under the International Meibukan Goju Karate Association. This Okinawan style karate shares the traditional teachings of Master Chojun Miyagi's Okinawa Goju-Ryu Karate-Do.
Classes take place Monday and Wednesday. For more information, please contact Bill at 780-438-3179 or via email at edmontongoju@hotmail.com
FEE: Varies. Contact Bill for more information.
Fitness Classes with Jen
Hazeldean FUNctional Fitness: Come join us for a fun, full body workout at Hazeldean Community Hall. Program starts in October on Tuesdays and Thursdays at 6 p.m. and 7 p.m. Contact Jen at onthegofitness@shaw.ca to register and for more information.
Playgroup
Hazeldean Community League hosts a free drop-in playgroup! All community children with caregivers are welcome. The coffee pot is on and it gives everyone a chance to play in a warm safe atmosphere. Playgroup is at the hall in with our coordinator Jenn. Contact the hall for more information.
Stay up to date on community driven events at http://www.hazeldean.org/
King Edward Park
Parent and Tot Program
King Edward Park Parent and Tot Playgroup
Every Monday from 10:30-12:00PM
Small Community League Hall (8001 81 St.)
Babies and toddlers welcome!
Drop in for some free play, sing-alongs, arts and crafts for the little ones, and socialize with other parents in the neighbourhood over coffee and tea.
Questions? Contact Keren at 780-902-8852
Yoga
Monday nights gets your week going with a Hatha flow-style class, focussing on foundational yoga poses, and linking movement with breath.  Adaptations for all levels will be provided. Jump in! Each class will end with a 15-20 minute breathing and meditation session. This class is open to beginners and experienced Yogis as well. Bring your own mats and water bottles. Blocks and straps are provided. To register email, zanne.cameron@gmail.com or phone (780) 914-3855.
COST:
Community league members: $75 for  12 weeks or $10 drop in.  Non-community league members: $100 for the 14 weeks or $15 drop-in.
THURSDAY NIGHT RESTORATIVE YOGA
6:30 – 7:30 PM, FEBRUARY 1 – APRIL 19
This class focusses on gentle movement, with a focus on restoration and rejuvenation. Open to all abilities. Blocks and straps are provided. To register email, zanne.cameron@gmail.com or phone (780) 914-3855.
COST:
Community league members: $75 for  12 weeks or $10 drop in.  Non-community league members: $100 for the 14 weeks or $15 drop-in.
WHERE:
Large hall 7708 85 St. Bring your own mats and water bottles. Blocks and straps are provided.
17th Annual Reuse Fair
Acceptable item list to follow…
A Reuse Fair is a one-day event that brings together non-profit community groups, churches, schools, hospitals and businesses with donated household items. Your donations will be used to enhance the craft, sports,music and other programs provided by many non-profit and charitable organizations. When you arrive, be prepared to place each of your items at specified location.
If you are interested in submitting an "order" for items from the Reuse Fair, contact Renee.
Learn more about environmentally friendly practices while at the Reuse Fair:
• Get important information on recycling, composting, energy and water conservation methods.
• Visit artisan booths that incorporate reusable items in their wares.
• Book Exchange – take some or leave some! (Paperbacks, hardcover and magazines)
This is a volunteer run event. If you can spare a few hours of your time, please contact Renée at 462-7001. Volunteers are needed to help set up, assist unloading vehicles, sort items, survey the public participating, and for clean up.
Stay up to date on community driven events at http://www.kingedwardpark.org/ 
Knottwood
Outdoor Soccer Registration
2018 Outdoor Soccer Registration will begin on-line February 1, 2018 here:
http://www.www.emsamillwoods.com/
The outdoor season runs May 1 (weather permitting) to the end of June with some post season play possible in July for U13 and older. Tryouts for our Selects FC teams will be late March 2018.
To register your child, follow these two steps:
Register them online at www.emsamillwoods.com on or after February 1, 2018.
Attend a registration night where you will need to produce proof of age for your child and your community league membership. Information on registration night date and times will be posted soon.
Neighbourhood Watch Speaker Series
Learn how to make your community more safe!
Join us on the last Tuesday of each month, to learn different topics and strategies to reduce opportunities for crime. Guest speakers will attend and provide information and advice. Learn how to report vandalism, graffiti, crime and suspicious activities. Talk about your concerns regarding neighbourhood safety and have the opportunity to share your ideas to improve safety.
For the second instalment of our Speaker Series, we are delighted to welcome Kim Buehler, the Executive Director of the South East Edmonton Seniors Association. She will be joining us to help discuss the topic Place Making and will discuss the importance of installing benches in our neighbourhood.

Crime Prevention and Neighbourhood Watch Speaker Series 
Last Tuesday of each month
7 to 9 pm
Knottwood Community Hall
Cost: FREE
Registration is required. Please register below to reserve your spot.
Questions? Email neighbourhoodwatch@knottwoodcommunity.ca.
Yoga with Corrine
10 Weeks
Thursday, April 12 to June 14
7:00 to 8:15 p.m.
Cost:
Community League Members (any league): $100/ 10 weeks
Non-members: $130/10 weeks
or Pay-What-You-Can for those on fixed incomes (maternity leave, disability, seniors, students, etc)
Have you always wanted to try yoga? Are you looking for a place to learn or practice in a comfortable, non-judgmental atmosphere and at a very reasonable price?
Join us for this ten-week class where yoga postures, breath work, and meditation will be taught to promote balance in the body, mind and spirit.
All Levels welcome! Registration is required.
Learn more about Corinne: http://www.lotusmoonyoga.ca/
For Pay-What-You-Can options, or any questions, email programs@knottwoodcommunity.ca.
Daddy/Daughter Hair Styling Class
Sunday, April 29
1:00 – 2:30
Knottwood Community Hall
Cost:
(one adult and one child)
Community League Members (any league): $40
Non-members: $50
12 Daddy/Daughter pairs maximum (24 people total)
Hey, Dads! Do you struggle with doing your daughter's hair?  Still trying to figure out how to do a basic ponytail and have no idea how to even start with braiding? If so, this class is for you!
Conquer the morning hair routine and up your hair game! We start with brushing techniques (to avoid those painful tangles) and work up through ponytails, pigtails and braids. You will receive a completion certificate, plus a special start up styling kit and extra hair goodies that will allow you to keep practicing at home. The class will finish off with cupcake decorating.
This class is also open to big brothers, uncles and grandfathers. Sorry, no Moms allowed.
Class will be lead by Haley from "Hair with Haley".
Coffee, tea and juice will be provided.
Questions? Email programs@knottwoodcommunity.ca
Let's Make Toys: Junior Mechanical Engineering (For ages 4 to 6)
Saturdays (4 weeks) 
Jr. Mechanical: Let's Make Toys
Saturdays (4 weeks)
May 19 to June 9
10:30-11:30am
Knotwood Community Hall
Science is fun and exciting! Based on STEM education (Science, Technology, Engineering, and Math), this Engineering for Kids workshop is designed in a way that kids won't notice that they are learning these subjects because they are having too much fun.
In the 4-week Junior Mechanical Engineering: Let's Make Toys class, our youngest engineers (ages 4 to 6) will be introduced to fundamental concepts of energy, materials, and movement. Students will explore and construct five different toys throughout this unit, including spinners, magical boomerang cans, poppers, and more.
12 participants max (6 minimum to run the class)
Cost per child:
Community League members (any league): $70
Non-members: $80
Questions? Email programs@knottwoodcommunity.ca
Electrified: Power-up the world! (For ages 7-14)
Electrified: power up the world
Saturdays (4 weeks)
May 19 to June 9
12:00 to 1:30 p.m.
Knottwood Community Hall
Science is fun and exciting! Based on STEM education (Science, Technology, Engineering, and Math), this Engineering for Kids workshop is designed in a way that kids won't notice that they are learning these subjects because they are having too much fun.
This electrical engineering program is designed to introduce students aged 7 to 14 to the concepts of circuit design, building, and maintenance through various hands-on activities. Students will walk away with exciting take home builds and an in-depth knowledge on basic circuits.
Ages 7-14
14 participants max (6 required to run the class)
Cost per child:
Community League members (any league): $100
Non-members: $110
Questions? Email programs@knottwoodcommunity.ca
Help the Bees! Bee Hotel Workshop
Did you know that much of the food that you eat owes itself to pollinators? The majority of pollinators are insects, such as  butterflies, moths, flies, beetles, wasps, and especially bees!
Alberta is home to over 300 species of bees, most of which are solitary bees: they are not aggressive and are also very efficient pollinators.
Pollinators and bees are declining for a number of reasons, including: habitat loss, pesticide use, and climate change. We need solitary bees to pollinate our plants, including our vegetable plots, flower gardens and agricultural crops.
You can help Edmonton's bees!
Join us for this Help the Bees: Bee Hotel Workshop  where you will create a bee hotel for your backyard from a kit provided by the Edmonton and Area Land Trust. You will also learn more about what you can do to help bees and other pollinators. Bee hotels attract tunnel-nesting, non-aggressive solitary bees and other solitary pollinators, which lay their eggs in the tunnels of the hotel. By placing these in your yard, you will help to create much needed habitat and in turn, will also be introducing more pollinators to help your flower and vegetable gardens.
Participants must bring their own cordless drill (with extra battery if possible), and should be comfortable using it. All other tools and supplies will "bee" provided!
This workshop is open to adults and children aged 5+. Children 13 and under must be registered with an adult.  Maximum of two adults or one adult and two children per bee hotel kit. For families with two adults and two+ children, two bee hotel kits will need to be purchased.
Workshop provided by: Edmonton and Area Land Trust
May 25, 2018
7 to 9 p.m.
Knottwood Community Hall
Cost/Registration Info: (Per Bee Hotel Kit)
Community League members (any league): $30
Non-members: $40
In order to ensure we have enough participants, please by May 21.
Learn more about bee hotels and pollinators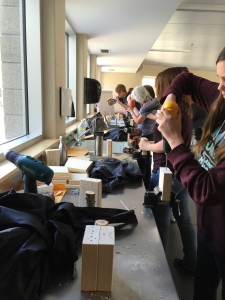 Photos courtesy of Edmonton Area Land Trust
Questions?
Email communications@knottwoodcommunity.ca
Stay up to date on community driven events at https://knottwoodcommunity.ca/
Lakewood
Community Swim
(community membership required)
Mill Woods Rec Center
September 10, 2016 – August 26, 2017
2:00 – 3:30pm
Free community swim has been renewed!Commencing September 9/17 to June 30/18 from 2:00 p.m. to 3:30 p.m. at the Millwoods Rec Centre.
If you need a community membership please contact Gerald at 780-474-7161 or EFCL.
Leefield
Scrapbooking Crop Weekend
April 20-22
​$70 for the weekend
Includes make & take project, meals, snacks, beverage and door prize entry!
Call the office to register today!  780-463-2456
Spring Gift & Craft Sale!
April 28
10:00 am – 4:00 pm
30 local vendors/artists
Tables available to rent!
Free admission!  Door prize!  Cash concession!
Preteen Dance!
May 11
7:00 pm – 10:00 pm
10-12 year olds welcome
​$10 at the door – must be checked in/out by responsible adult
Entry includes pop/chips/door prize entry and three hours of fun!
Scrapbooking Crop Weekend
June 1-3

​$70 for the weekend
Includes make & take project, meals, snacks, beverage and door prize entry!
Call the office to register today!  780-463-2456
Milhurst
MOMS MORNING OUT -WEDNESDAYS @ 9:00 am 
Come meet some other moms who live in the surrounding communities.  Time to talk, laugh and be with other moms.  Coffee and tea with be on! $1.00 drop in fee.
BIG BIN EVENT!
Free for people living in Millhurst (some conditions apply)
 – Drop off items such as old furniture, mattresses, appliances, and other items too big for regular collection.  Fridges and freezers will be subject to a $12.00 fee.
–  Computers and other electronics will  be accepted for recycling.
– Will not accept commercial waste and household hazardous waste (paint, chemicals), and tires.
– Shredding bins on site to assist dealing with sensitive documents like cheques, receipts or bank statements.
– A truck will be on hand to collect clothing and small household items with proceeds going towards Diabetes Canada.
– Proof of Millhurst residency required.
– A local men's group is willing to assist those who do not have access to a truck or need additional help to move large items.  Book a time by contacting 780-461-8814 or e-mail pastor@concordialutheran.ca.
FREE INDOOR SWIMMING
(SEPTEMBER LONG WEEKEND to MAY LONG WEEKEND)
Millhurst Community League will reimburse up to $30.00 per month for swimming at the Millwoods Recreational Centre and the Meadows Community Recreational Centre to a Millhurst Community card holding members.  These privileges are reviewed at each General Meeting and may change as we work with the city to develop a program best suited for our members.  You must live in the Sakaw or Meyokumin neighbourhood to have a Millhurst membership and enjoy these swimming privileges.
The following is how to recieve this benefit.
Step 1:  Complete form.
Step 2: Place form and receipts in an envelope and place in the mailbox at the Millhurst Hall (5811 19A Ave) by the first Wednesday of the month.
Step 3:  Pick up your cheque at the Millhurst Hall (5811 19A Ave) on the second Wednesday of the month at our executive meetings or submit with a self addressed stamped envelope to be mailed to your home.
Art with Cindy Ohama
Next classes June 1st & 2nd, 2018
Follow the Millhurst Community League Website for more information as it becomes available.
Stay up to date on community driven events at http://www.millhurst.ca/
Ritchie
Fit for Life
Full House! We are taking no new members for now.
TUESDAYS AND FRIDAYS 9 – 10 AM
Move to the oldies in this mixed-level class offering exercise for every body! The workout includes components of cardio, strength training, balance and flexibility for a well-rounded one-hour workout!
For more information contact Lynn Lindsay:
lynnlindsay828@gmail.com
call: 780-996-2182.
Yoga – Every Wednesday
7:15 – 8:30 P.M
Join Kristal for a weekly yoga class at Ritchie Hall.  All you need is a yoga mat (mats are available or bring your own) and some comfortable clothing. We look forward to seeing you there!  For additional information, contact Kristal at kristalcforrest@hotmail.com.
$10 drop-in (with membership)
$12 (without membership)
$40 for 5 classes
Zumba
MONDAYS 7 – 8PM
$10 drop-in members/$12 drop-in non-members
First class FREE for Ritchie members!!
Members buy a 9 class punch card…get 10th class FREE!!
PERFECT FOR:
EVERYBODY AND EVERY BODY! EACH ZUMBA® CLASS IS DESIGNED TO BRING PEOPLE TOGETHER TO SWEAT IT ON.
HOW IT WORKS:
We take the "work" out of workout, by mixing low-intensity and high-intensity moves for an interval-style, calorie-burning dance fitness party. Once the Latin and World rhythms take over, you'll see why Zumba® Fitness classes are often called exercise in disguise. Super effective? Check. Super fun? Check and check.
No dance experience necessary, all levels of fitness welcome! Just come out and have some fun! Please bring indoor shoes and a water bottle.
BENEFITS:
A total workout, combining all elements of fitness – cardio, muscle conditioning, balance and flexibility, boosted energy and a serious dose of awesome each time you leave class.
More questions? Email Margareta Jesse (zumbamj@outlook.com).
Drop-ins are welcome. Fees apply.
NEW for Ritchie members! 
Take any/all classes taught by Margareta for $50/month!
Yoshinkan Karate for Families
EVERY THURSDAY
Ritchie Community League Hall is home to a Karate school that provides lessons for adults, children (age 7+) and families.
Everyone is encouraged to come and try TWO FREE classes at any time.
Classes run from September to June on Tuesdays and Thursdays at 6:30 p.m.
Classes are taught by certified Black Belt instructors and focus on fitness, self-defense and fun in a safe and social atmosphere providing our members with a place to develop their bodies, minds and spirits while learning traditional Karate.
New students are always welcome. Also, see our website or ask about our discount for Ritchie Community League Members!.
Core Fit
FIT with BABY
MONDAYS (no class on holidays)
9:45 – 10:45 AM
Fit with Baby is a stroller-based fitness program for new parents who want a full body workout but don't want to or can't leave their babies behind. Even though our focus is to safely keep the pre-natal mama active and the postnatal mama get back into physical activity and raise her energy, dads are more than welcome to join us for a workout! Using HIIT, body weight, portable equipment and even structures around the neighbourhood you will find yourself working hard but having fun! Build a network and friendships in your own community and meet other new parents who have the same fitness goals and share similar pre/postnatal experiences.
Class will run outside for as long as possible (8 degrees C or above by 9:30AM) so come prepared with your outdoor essentials. Running shoes and water bottle are needed for every class and for safety purposes your child must remain in the stroller at all times with the exception of feeding/changing/calming. This is not a babywearing workout. If you would love to join us for a workout but don't have a baby, come!
For additional information or questions contact the instructor Margareta at zumbamj@outlook.com
$10 drop-in Ritchie members
$12 non-members
Margareta Jesse
AFLCA Group Exercise, Portable Equipment Instructor
Fit4Two PPFS (Pre/Postnatal Fitness Specialist)
Zumba
Ritchie Bridge Club
FRIDAYS
A local Edmonton community club with a passion for Bridge!
It runs every Friday afternoon (except for holidays).
Up to 25 tables.
Just $3 per person.
This fee includes Bridge (of course), cookies, and coffee. Who could disagree with all that!
Doors open 11 a.m – games start at 12 noon
Bingo
EVERY SECOND WEDNESDAY 6 – 9 p.m.
For more information e-mail: j_niederhaus@hotmail.com
Note: some fees apply
Ritchie Cribbage Club
EVERY SECOND WEDNESDAY
We usually meet bi-weekly at the hall.
Bring your nibs every second Wednesday from 12:30 – 3 p.m
All are welcome!
For more information, call:
Kate (780) 433-0977 or
Maryann (780) 462-8582.
Woodvale
Hatha Yoga Class Starting April 16 2018
A Hatha Yoga class will be held in the Woodvale Activity Centre beginning on Monday April 16 2018 for five weeks. All classes run from 7:00 p.m. to 8:00 p.m. The registration fee is $35.00 For more information or to register please call Rosemarie at 780 450 3270.
Wahkohtowin Night on April 26 2018
Wahkohtowin Night Family Night will be held on Thursday, April 26, 2018 at Holy Trinity High School from 5:30 p.m. to 7:30 p.m. Everyone is welcome.
Bike Safety Program on June 3 2018
A bike safety program will be presented at the Greenview school parking lot, 5904 38 Avenue, on Sunday June 3 2018 from 2:00 p.m. to 5:00 p.m.
Stay up to date on community driven events at http://www.woodvale.org/index.html
City of Edmonton Events Calendar
(if you have an event you would like to add please contact us)